EDEIS airports are esteemed partners of ExecuJet's global network of Fixed Base Operations (FBOs).
ExecuJet operates a comprehensive fleet of 23 FBOs, strategically located across Africa, Asia-Pacific, Europe, the Middle East, and the Americas. These FBOs are part of the renowned Paragon Network®, which boasts an additional 88 FBOs worldwide.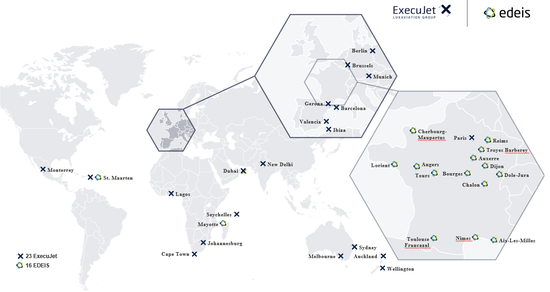 Discover FBO services
As a member of the esteemed Luxaviation Group, ExecuJet is devoted to delivering exceptional facilities and services to business aircraft, passengers, and crews on a global scale. Recognized as an industry leader in ground handling, ExecuJet has consistently received prestigious accolades for its operational excellence and unwavering commitment to the highest safety standards.
The partnership between ExecuJet and EDEIS is designed to provide tailored FBO services to discerning clients within the business aviation community at EDEIS airports.
Services for VIP passengers encompass:
Impeccable coordination of presidential, VIP, and diplomatic flights
Personalized 24/7 concierge services upon request
Exclusive private VIP lounges
Streamlined and hassle-free formalities
Dedicated assistance and support
Services for crews include:
Thoughtfully designed rest areas for planning and relaxation
Complimentary refreshments and Wi-Fi connectivity
Convenient transportation and accommodation arrangements
Aircraft assistance features a comprehensive range of services:
Secure parking options on the apron or in hangars
Efficient coordination of Air Traffic Control (ATC) and slot management
Expert flight planning support, including weather and NOTAM updates
Reliable fueling services
Tailor-made catering options to suit specific preferences and requirements.